The final part of my Transalp bike ride after Drei Zinnen Naturpark and Naturpark Fannes, have got progressively more of everything. More distance, more vertical pedalled in a day and more epic views as well.
Rain clouds came and took control over the sky. Frequent rain periods have created this mystical fog on my way up. I would say that this part was the most stunning part of the trip.
This is the section from Rifugio Alpe di Tires to Schlernhaus 2457m.
Day 4 – Alta Badia to Schlernhaus 2457m
47,8 km / 1960 m vert. uphill
My day has officially started in Alta Badia. I've hit the road and pedalled up to Passo Sella. It was quite rewarding to be able to ride uphill on 3rd gear.
I don't know how the distance and altitude flew-by, but I was up in Passo Sella within 2,5 hours, where the asphalt road turned into epic singletrack.
Having a good rain jacket here is the ultimate difference between success and illness. Also between sleeping inside and outside of the Schernhaus, because the first thing after warm Hallo was the temperature measuring gun pointed to the middle of my forehead. If my body temperature was higher than normal, they might refuse to accommodate me there. As it is the only mountain hut around, this would end up with 3 hours long night descent down to the valley. Corona safety measures first.
The weather was cold. My shoes, pants, gloves and everything from the waist down was soaking wet. The only dry space was under my Zajo eVent rain jacket. I pedalled slowly, to keep my sweat down to a minimum. I was eating mostly easily digestible carbs, so I kept my eating breaks short and moved continuously.
I can't say that I felt like I would rather be sitting on my sofa. Even under those conditions, I would never trade a single second of being where I was, doing what I was doing. I've felt like living in the present moment.
Soon I've reached my destination. Schlernhaus 2457m. Soaking wet, cold, but with a smile from ear to ear I've squeezed the water out from my socks and pants and walked into the mountain house.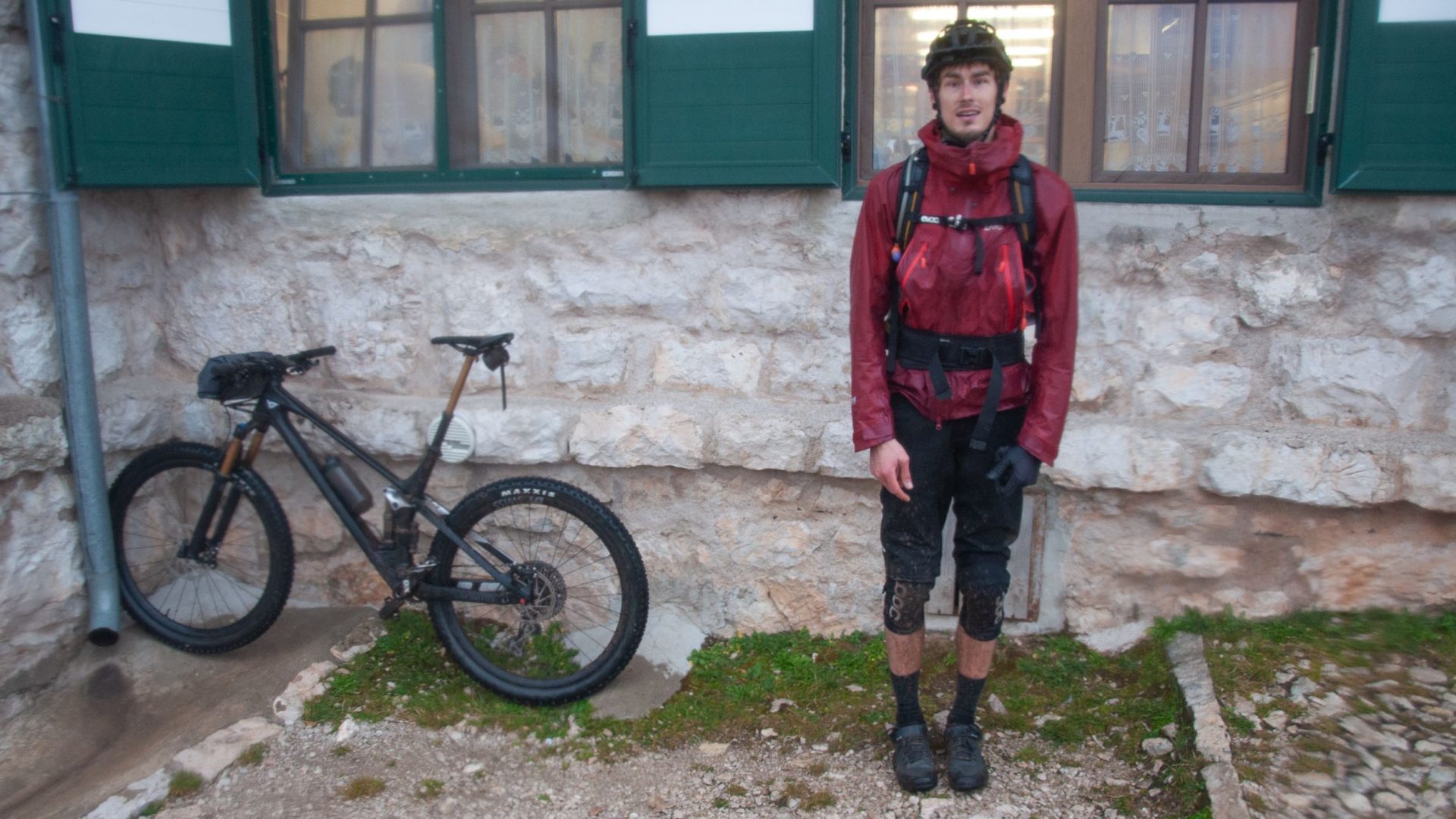 Forehead temperature measuring said that Covid is not present and I was welcomed to the Schlernhaus. Just at the right time for dinner. Again, Spaghetti Oglio and vegetable soup:-]
Day 5 – Schlernhaus to Meraner Hutte 1937m
65,4 km / 3260m vert. uphill / 3740m vert. downhill
Day 5 was the biggest day of this trip. I've never pedalled 3260 vertical meters uphill and descended 3740 meters downhill on the same day. But the fact that I don't know if I can do it doesn't mean that I can't do it.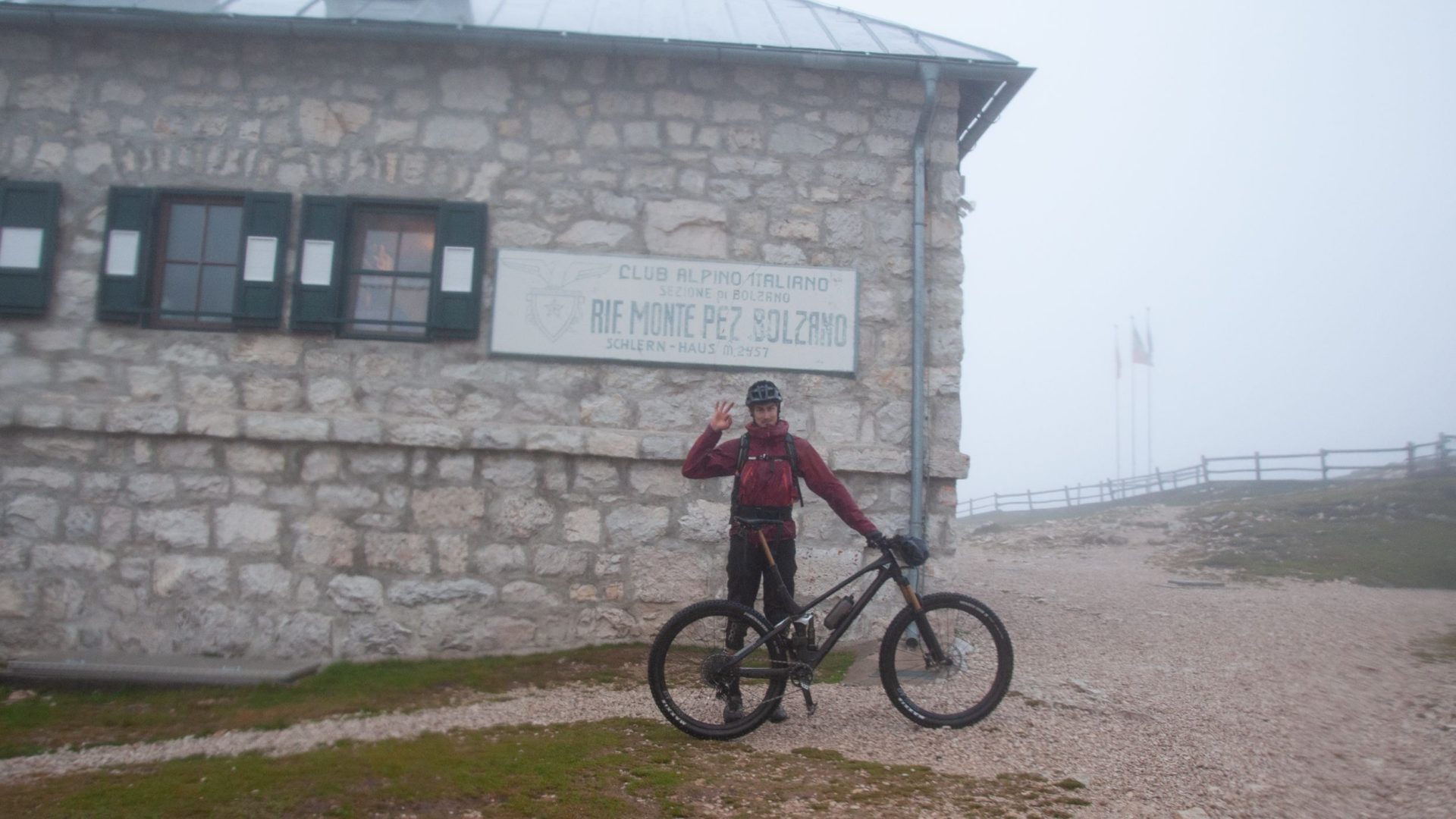 So where is my limit? I don't know. The only way to find it out is to test it.
I've eaten breakfast, prepared the bike for a long descent and here I was, disappearing in the distance for a 12,5-hour long bike ride.
The descent has started on nice grassy hills and progressively turned into the steep rocky hiking trail, full of insanely slippery wooden logs across the trail, which serve as stair edges to hold the rocks together.
I was riding it all the way down at a controlled speed, lifting the front wheel up every time when the slippery log appeared. Stopping occasionally to leave the brakes cool down and fingers to recover.
Once I reached these wooden bridges however, I had to dismount and push the bike down. Those logs were so slippery, that I had to carefully tiptoe my way down. Anyway, my boiling brakes have appreciated this little rest.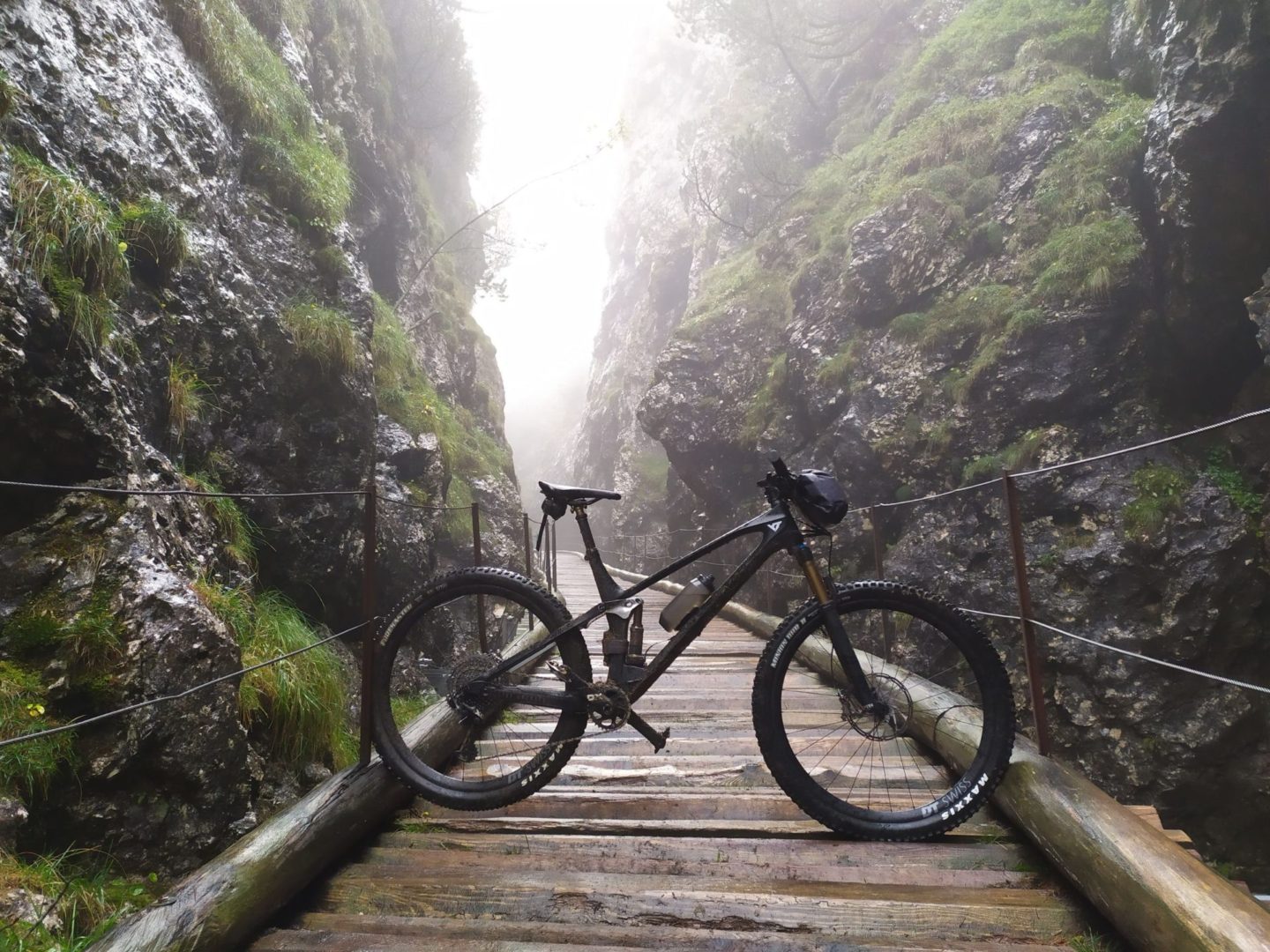 Once I've reached the valley, there was warm and sunny. Ou yeah! What a nice present.
Knowing that the biggest uphill is waiting for me, I've bombed my tires, locked suspension and started pedalling uphill without further ado.
After an hour, the rain clouds were back, and the story from the day before hit replay. The only difference was that the epic views were missing.
I've reached the Rittner Horn Haus. I've ordered my favourite, you name it, Spaghetti Oglio and ginger tea. It gave me the power to attack that cold rainy and windy weather that was waiting outside.
"Only one short uphill and then long epic descent down to Sarentino begins."
Booyaka! There was a surprise patiently waiting for me…
The spiritual fecal journey across the cow-shit land.
This was not cool. My descent was going down through huge grassy fields, penetrated with a lot of water from frequent rains, and salted with cowshits. Sometimes, I didn't even know where the trail was. I've seen only holes from cow legs, and shits everywhere. These shits were mixed with water, which filled up my shoes. Cowshitland crossing took a good 2 hours of hike-a-bike.
Once I've reached the part of the hill that was a bit more vertical, I hoped to finally ride the trail down. Yes, they were rideable, but completely wet and covered in a cowshit.
Why do I call it a spiritual journey?
I was doing my best not to hate cows and their owner. In fact, the trails are going through his land, the cows are free on his land, and we should be grateful that he allowed that trail to be there. Yes, my mind was hating everything, I felt disgusted, but I knew that this is the part of my journey. The cows will always be there and I as a mountainbiker must accept this.
Finally, I've made it to the bottom. Refuelled for the last 1000 meters vertical of uphill. And hit play again.
Soon, I was at Meraner Hutte, where my girlfriend Zuzka was patiently waiting for me. I've missed the dinner, the bar was closed already, so I've drunk a protein shake, ate a handful of nuts and went to sleep.
I think that was my biggest mistake of the trip. I was hyped from all those simple carbs I've consumed on the way up, but failed to provide real nutrition to recover after most strenuous day of the trip. I was unable to fall asleep. Once I did, there was a morning already.
Day 5 – Meraner Hutte to full body collapse
My breakfast was only a coffee without anything. I thought I will make it down fast, and eat proper Vegan food. The descent was way more technical and way longer than I thought. I've made it down to Merano shortly before noon.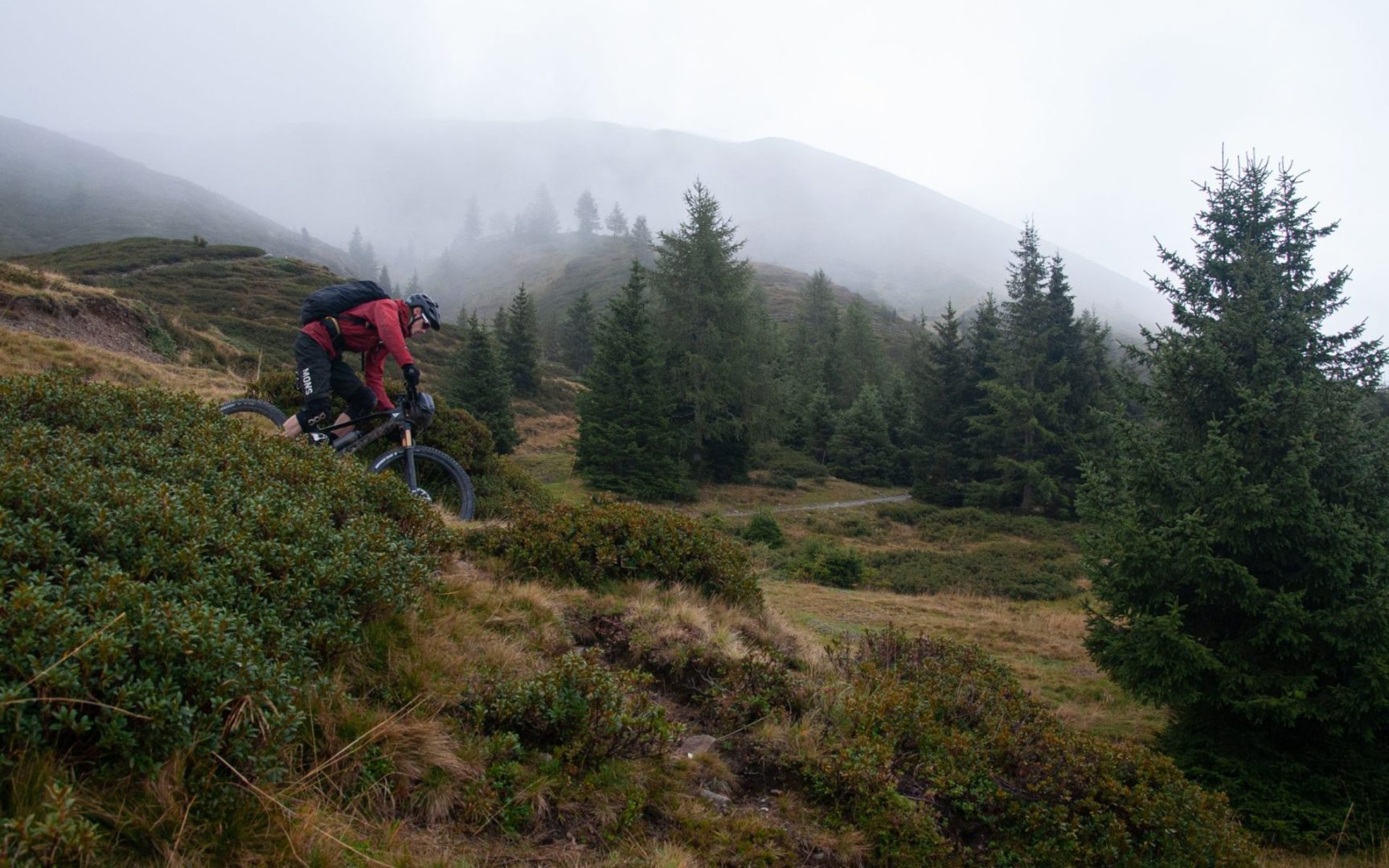 This sixth day to Sesvenna Hutte supposed to be my longest day, reaching 88 kilometers and 2150 meters vertical of uphill.
While being in Merano, I knew, that I don't have much time to have a good lunch. So I've bought some bread, and hit the road, hoping that I will have a good dinner at the Hutt.
As I've pedalled along the river for tens of kilometres, my energy gave me a good night kiss. I've stopped, ate fast carbs to get back on the road, but no improvement. Then I've eaten fresh apple from a local tree, no improvement at all. Then protein shake, but I still felt drained.
I've got on my bike to pedal through this energy deficiency, but my muscles have started cramping. I've stopped again, to drink and eat more, because I knew, I've failed in fuelling of my body. My symptoms have got even worse, I started to feel dizzy, and my forehead got warm.
Here I was, lying on the grass, next to my bike, my body in a safety mode, only 1 day away from my destination.
I've called my girlfriend, and we booked a night in a local hotel in Silandro.
I've failed to finish my Transalp Ride, because of multiple mistakes I did in preparation and the ride as well. Yet, this is the way how I learn. After such an experience you can be certain, that I will never repeat these mistakes again.
In conclusion, my ride was a blast. I am more motivated than ever and looking forward to even greater trips to ride. This was just foreplay;-]
This project happed thanks to my sponsors Whistler Adventure School and YT Industries. Thank you guys for your support and motivation!
I would also like to thank my girlfriend Zuza Budinska for hers resilience and excitement to get anywhere, anyhow to make most of these photos you can see here.
If you want to listen more about this trip and my background, you can tune in to the podcast on MTB-Tribe.com with me and Garreth Becket here: