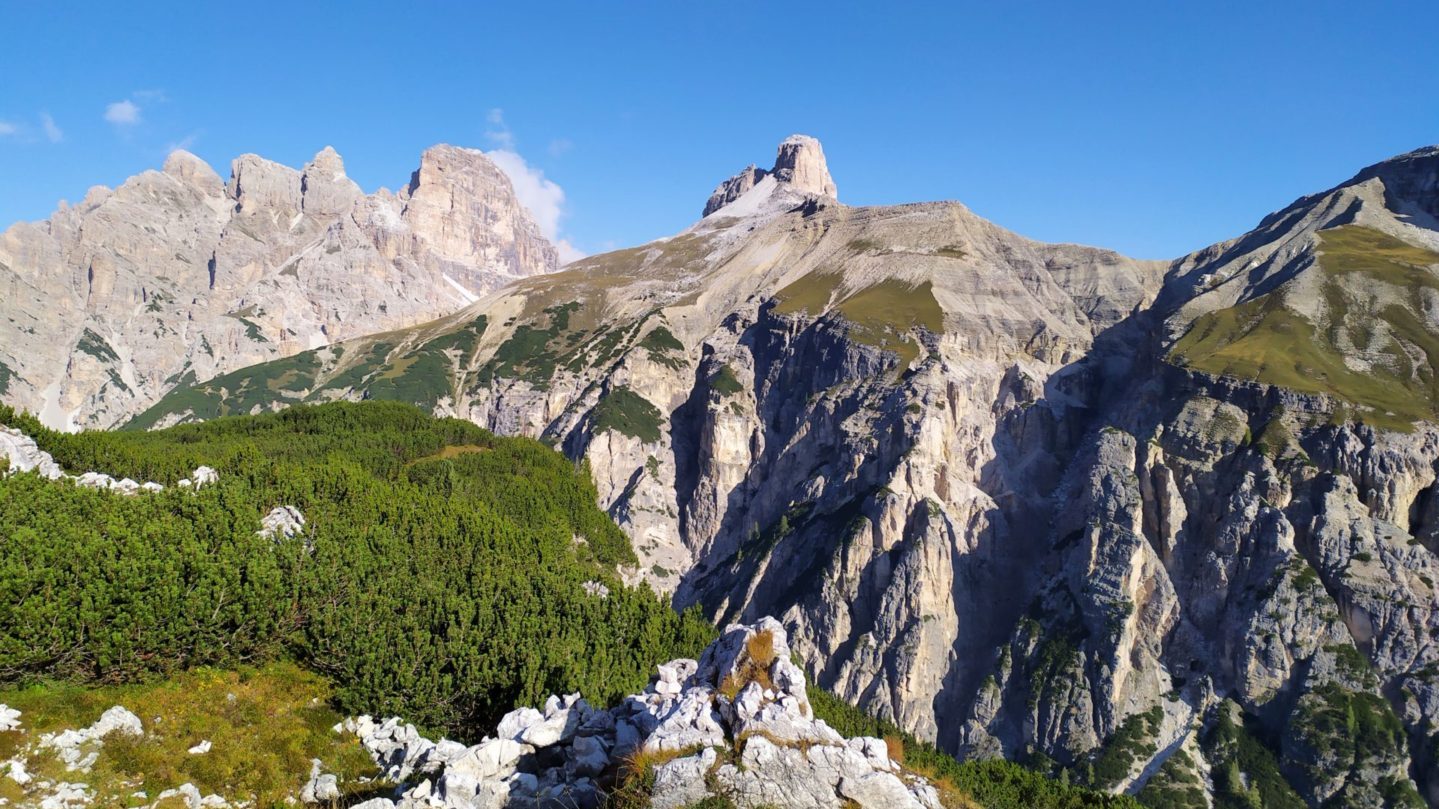 After warmup in Drei Zinnen Naturpark, I've descended down to Lago di Landro. The top part of this 14 kilometres long descent was quite challenging, with many steeps and narrow switchbacks.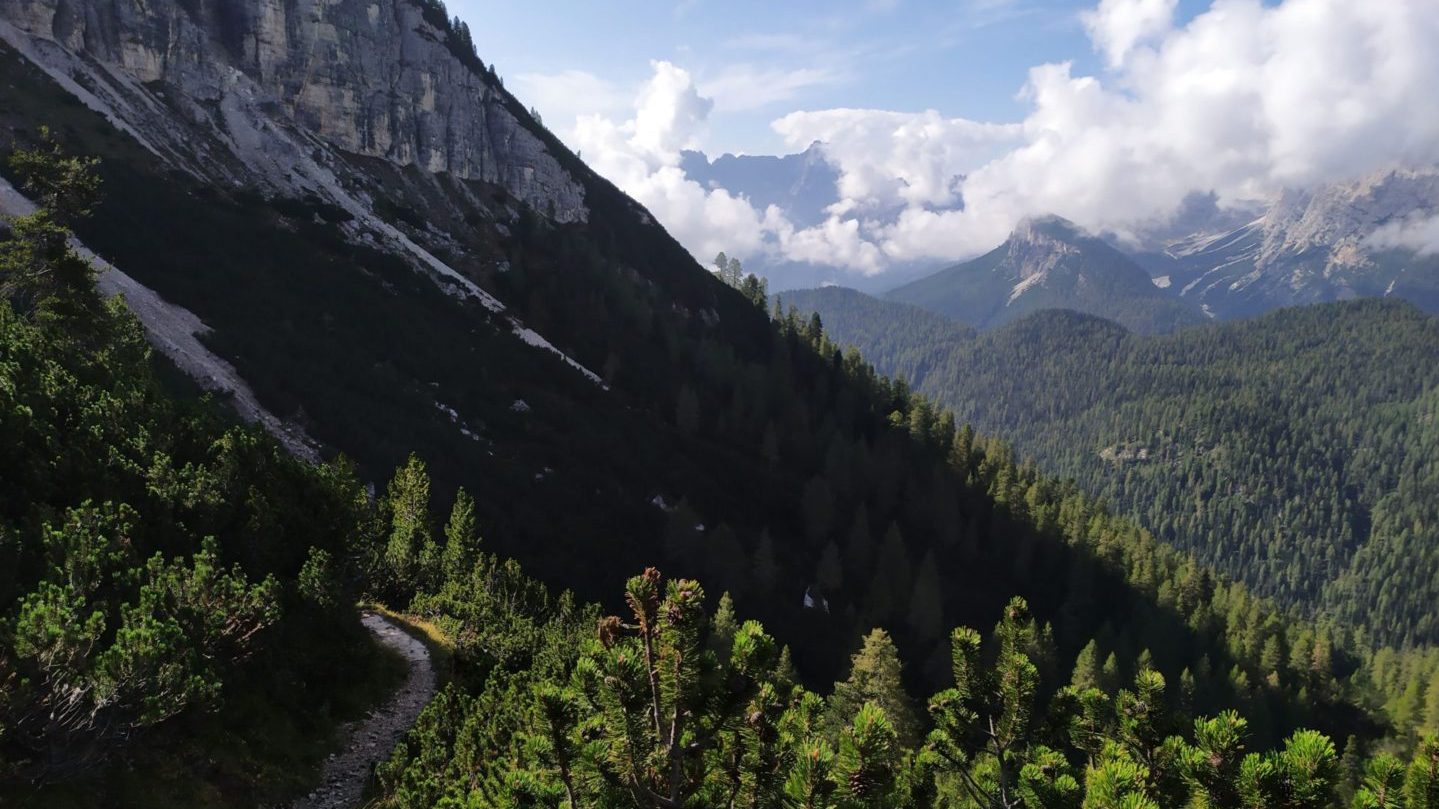 I was able to ride half of them, the other half I've pushed. After approx 20 mins, the trail eased down, and I've found myself on a flowy singletrail, which turned into a super-fun doubletrail. This made me excited pretty much all the way down.
I've taken a short chill on a bench next to Lago di Landro. Later, I've refilled my water in a local restaurant and acquired a custom Vegan Panini. Does it sound gourmet? It tasted like that, but in fact, it was only a panini bread bun with grilled veggies. Being on a high-carb sweet diet for 3 days makes you enjoy basic food like this way more.
When I think about my "proper food" on this trip, it was pretty much about Spaghetti Aglio, bread and grilled veggies. Next time, I will take sesame oil with nuts and seeds in it, so I can add them to meals during the dinner.
Okay, enough whining. Time to jump on the bike and start spinning. Especially when I consider that dark sky which was chasing me from the time I've started my descent 2 hours ago.
Day 3 – crossing Naturpark Fanes to Alta Badia.
49,54 km / 1847 m vertical
There were a couple of kilometres of beautiful gravely flat doubletrack which connects the descent with the final uphill to the mountain pass. I've taken it easy, slowed down and enjoyed the ride.
I wish it lasted longer… Soon this mellow flat bike route shifted into a steep gravel road which was hard to pedal even on Eagle 50t drivetrain. I understood that 165 bpm over the next 2 hours will toast my legs, so I switched between pushing and pedalling when appropriate.
Those dark rainy clouds I've mentioned earlier finally caught up, so we were walking together.
Get your nutrition right!
The third day was a huge shift for me in term of understanding how crucial is to get my nutrition right. I thought I was doing it right, but I was wrong. Obviously to read 3 books about performance nutrition was not enough.
I've arrived to Rifugio Fanes with a snail-like speed, physically drained. The problem was that Rifugio Fanes was only halfway up:-]
I've snailed into the restaurant and asked for some Vegan food option. I've got a super-tasty rice cake, coffee and large bowl of vegetable soup with fresh bread. Yummy!
A couple of minutes after this food had hit my cramped stomach, I started to feel the energy coming back. Was it because of that soup? Or a rice cake? The coffee? Or a combination of all? I didn't know, but I knew I was ready to roll again.
How do you eat an elephant? One bite at a time…
So I've started making my way to Rifugio S. Croce. This part was a 95% hike-a-bike thing. I've put IZZO on my back, pointed my head down and started tiptoeing up the mountain. It felt easy.
I thought over every foot placement, every rock step-up, every obstacle. I focused on two things only. Maximal step efficiency and rhythmic deep breathing. The distance flew by fast, and I was standing on the first horizont.
I've taken some photos and kept walking. I wanted to do the descent during daylight because I knew it will be challenging.
Fast forward one hour, and I was standing on the top. Well, this was my line:-]
It looks kinda freeridish. I still have those downhill sheenanigan times under my belt, but the bikes we've used were a bit different. How will IZZO handle this? Will see…
During the descent, I've got a call from my girlfriend, who already made it to the mountain hut, where we've supposed to sleep. She's walked inside and asked for 2 sleep places in the dormitory, as usual, however, she's got surprised with the answer "We're not doing any overnight stays this summer". Obviously, no matter what the website says, the lady behind the counter is right.
It was no problem for me, I've descended all the way into La Villa within a couple of minutes. Zuzka had a bit longer journey. All the way down to Badia, on foot.
At the end we've booked a room in the Chalet Planvart and went for a proper Italian pizza. It was delicious. #NoCheeseNeeded.
When I looked at her happy face, it looked like that walking trough the dark forest alone, is not her concern.
This trip was done with support from Whistler Adventure School. Thank you WAS for supporting adventures like these!