Drei Zinnen aka "Three Peaks" nature park is pretty much a hiker dream when it comes to spectacular views of the South Tirolean Alps. That's the reason why I didn't know anything about it until I've started planning my bike route.
During 2 days there, we've met hundreds of smartphones, tenths of SLR cameras, a couple of flying drones and one bike. Mine one. Now I understand why had this gorgeous place missed my bikers radar.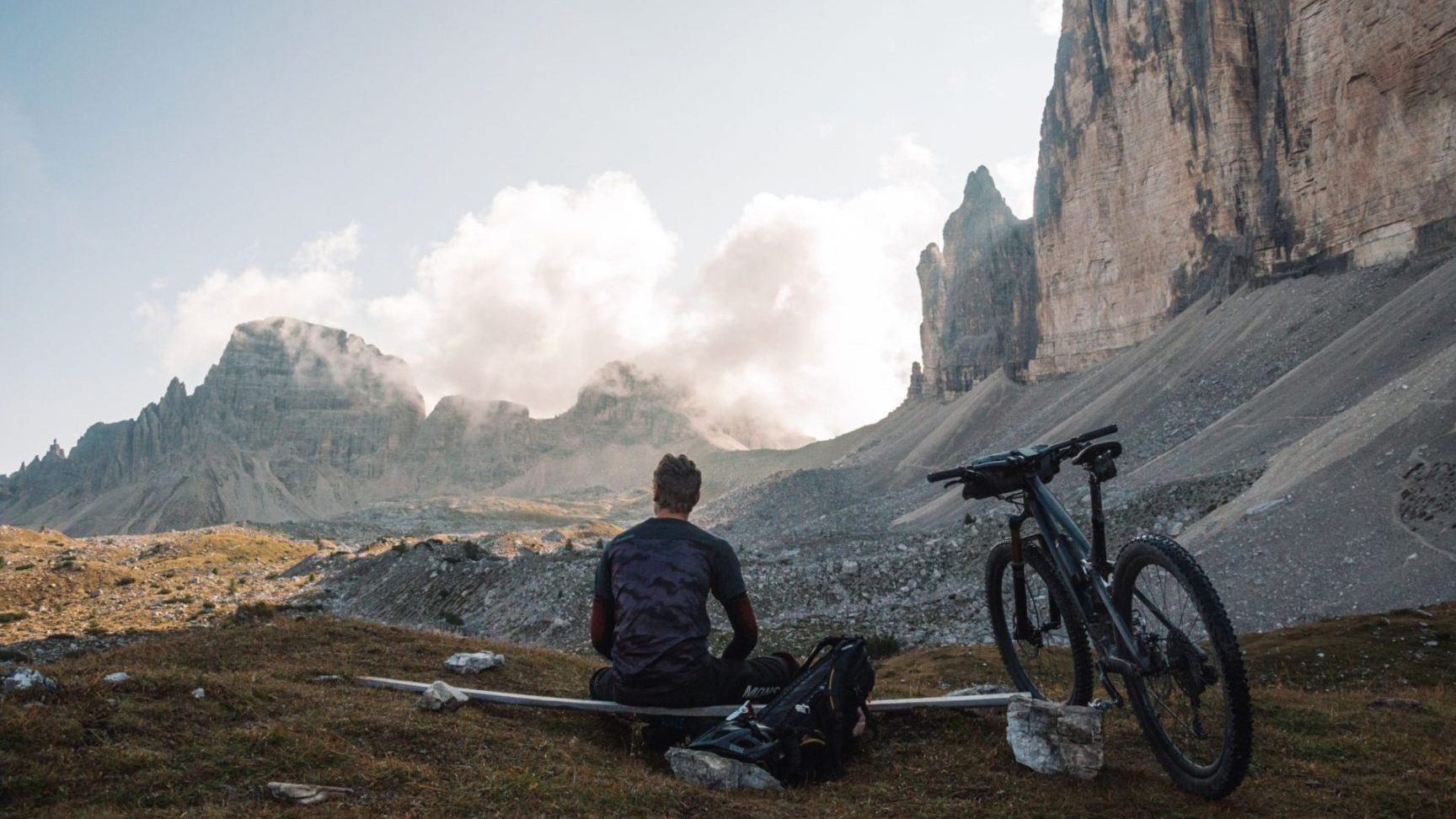 Day 1 – the approach.
36,52 km / 1819 m vertical
The first half of the first day was spent in the car. My girlfriend Zuzka [let's call he my non-wheeled photographer for now] was sleeping as usual. I was driving and listening to audiobooks, as usual. My choice for this drive was The Brave Athlete: Calm the Fuck Down and Rise to the Occasion, by Simon Marshall, Lesley Paterson. Just to set my mind in order for the challenge.
When we reached the parking lot in Sillian and got ready to go, it was 3:15 PM. I've said bye to my non-wheeled photographer start spinning. I've felt butterflies in my stomach, like before a downhill race, but I didn't know why. So I've calmed them the fuck down and kept spinning.
As I started gaining elevation, my feeling shifted to pure enjoyment. Even when my backpack had 6 kilos, and I've had additional 3 kgs attached to the bike, I thought I'm flying. IZZO felt so light on the uphill.
Basically, I kept spinning and spinning until I reached Sillian Huette 2447m. I've taken I break to bite a bar of chocolate and banana. The First 1381m vertical took me 2:44.
Changing the plan on the fly.
Originally, I've supposed to sleep there, but I was full of energy, had plenty of time, so I decided to keep going. I refuelled myself a bit, grabbed the bike and pointed it down to the descent.
Did I say I had plenty of time? Hmmm..
No problem, I was ready for this. I've bought a good headlight, Garmin Varia UT800, but also took a classic Black Diamond Storm headlamp and extra batteries. Life taught me that headlamp, water and extra chocolate are the three most important things in the mountains. If you don't believe me, check my Ice Climbing BC – The Plum Suffer Trip article.
When I arrived at Dreischusterhuette 1626m, It was 9 PM. I've opened doors and there were my non-wheeled photographer and hut staff waiting for me with laughter. I didn't know why, so I started laughing too.
I've gulped my 0,33ml alcohol-free beer and it was time for a shower. I've dropped a coin in and relished my 3 minutes of warmish water. Achtung! If you are a person who can't exist without a daily dose of infinitely long skin-burning shower, this trip might not be for you:-]
Once I was squeaky-clean, I've washed my used socks and boxers so I can use them the next day. If you are wondering why am I going so deep with this article, I've decided to take only two pairs of socks and two boxers to save weight and space.
Unfortunately, the smart decision came with a cost. Being in wet socks and underwear during the entire trip. Mountain huts have cold radiators in September. What a bummer!
Day 2 – hike-a-bike to the heaven
5,25 km / 814 m vertical
Walking, walking and more walking. This was a pistol-squat day. The distance was short, but the terrain didn't permit pedalling. I knew that this day will look easy, but it will be a workout. It's like walking up the stairs with 22 kg on your back.
I've intentionally planned this day short, so I was able to lower my pace and go slow. The last thing I wanted was to destroy my legs on the second day.
Thanks to the fact that the weather was compassionate this day, we were able to take some photos and enjoy paradise.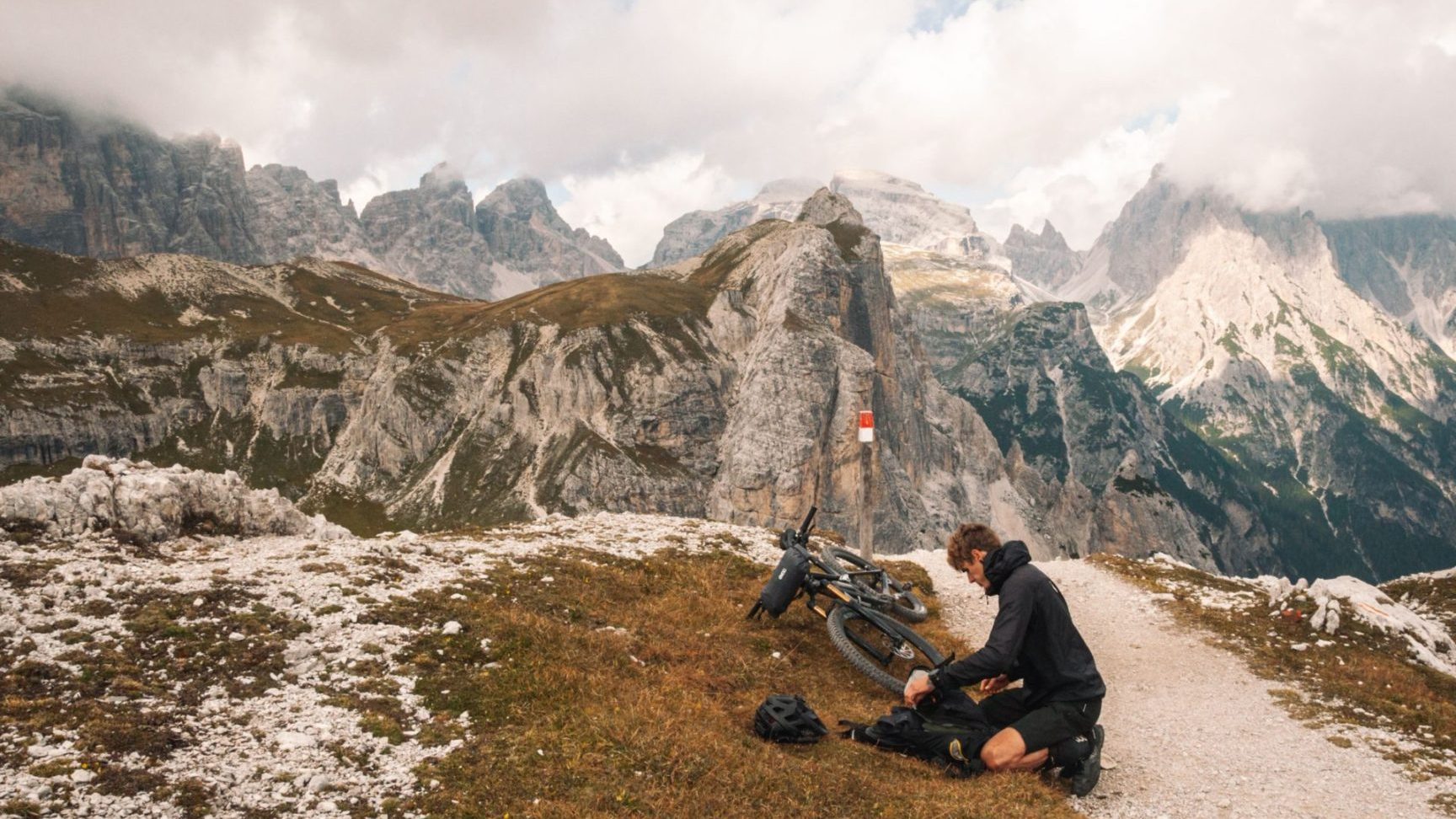 This was the first and last time on this trip when I've made it to the hut with daylight.
I was able to relax and eat good food, have a beer and enjoy the mountain lifestyle. Especially once the crowds of people left. This hut was full on Sunday evening, even in September.
As a Vegan athlete, I thought I will have to bring everything with me to meet energy demands. In fact, even when hut menu is not designed to be Vegan-friendly, you can always have Spaghetti Aglio. They are basic, but tasty.
Restaurant personal is very friendly, so when you ask, you can also mix&match some grilled veggies like we did.
After a good dinner, there was bedtime. This time, without a shower – you know, Corona rules. Cold radiators, wet underwear as standard.
Day 3 – the descent.
We've woke up into beautiful clear-sky morning. Moments like these are not given to us to be snoozed. So we gulped the coffee, packed the stuff and went to do last photos before I disappeared for the day again.
Lustig. I meant real photos…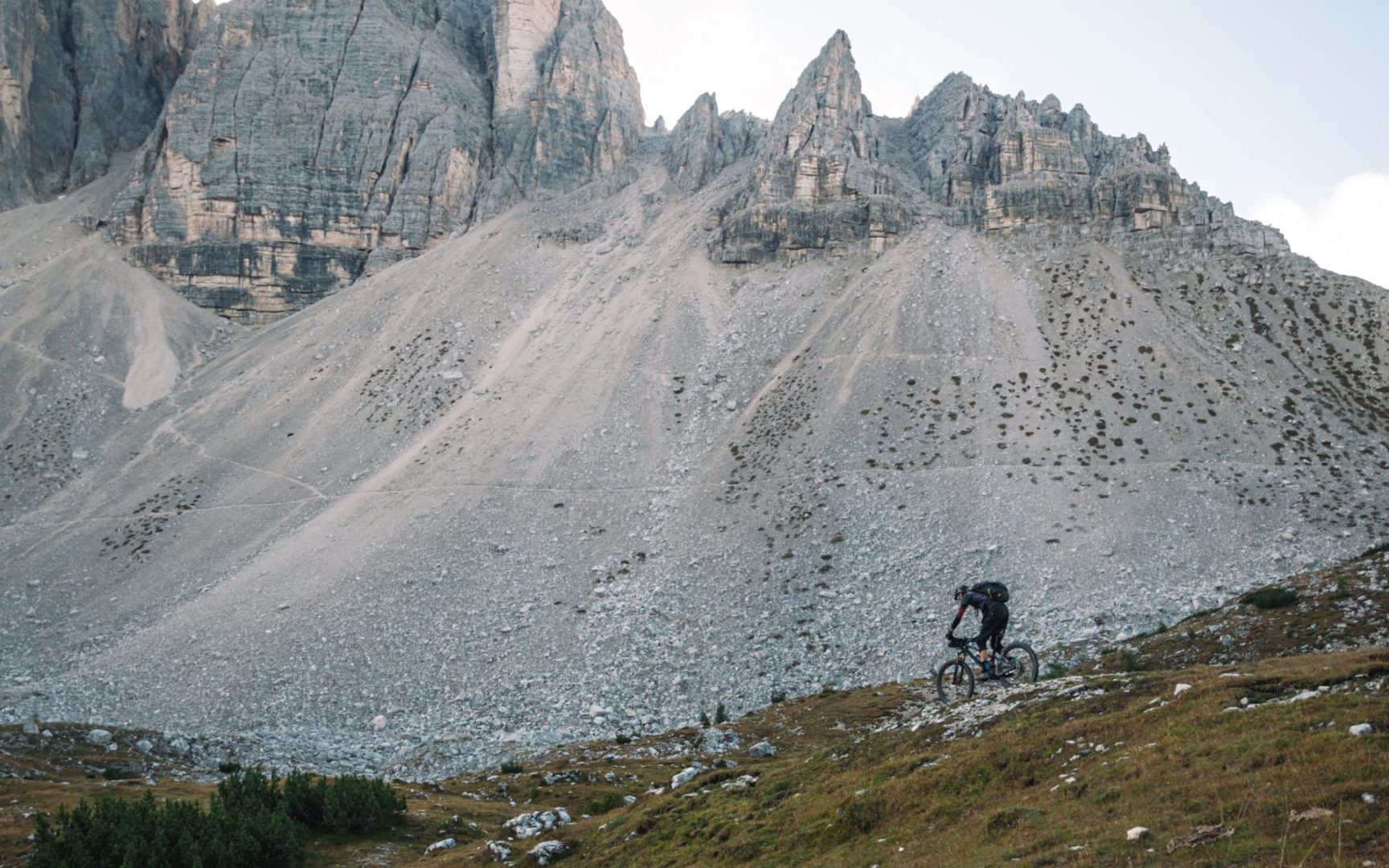 That's better:-]
The descent was long and challenging. I've learned how to do some nifty endos with YT IZZO on technical singletrack. This is the trail where really I've started to get into the groove with this little beast.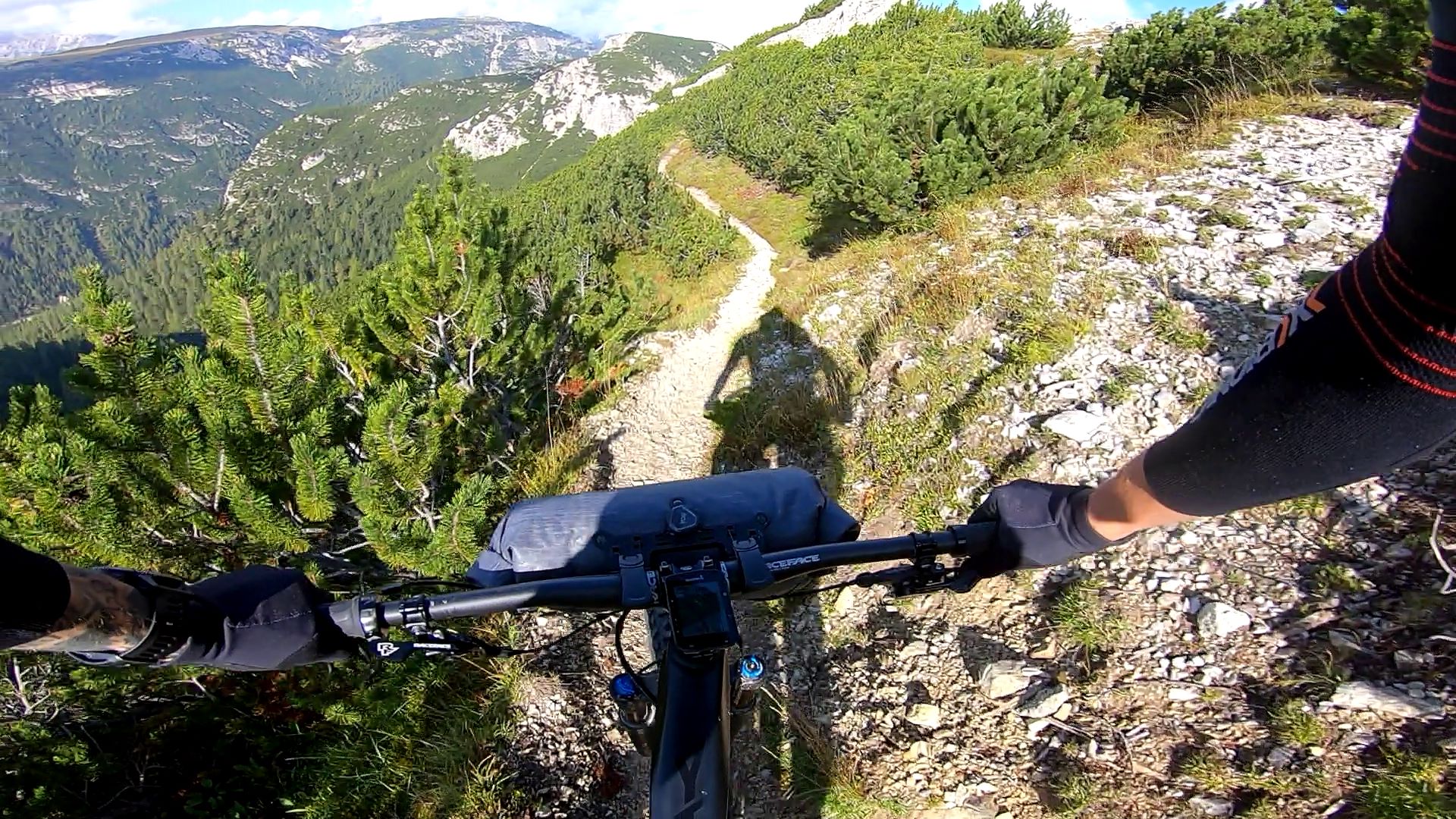 It took some days to adapt to the sharp handling of the IZZO, but once it happened, I didn't think of a big bike anymore.
In Summary
Drei Zinnen Naturpark is freakin' beautiful.
It was not about how much vertical meters I climbed [for this purpose, I've had the day 5]. It was about stunning landscapes, good vibes and fresh air that I miss at the place where I live now. It was nice to be back "home" again…